Sep 12, 2013 | Vote0   0
East Gwillimbury author fosters love of reading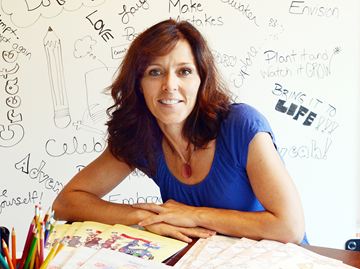 Writer fostering reading
Sjoerd Witteveen
Mickey Eves writes children books and goes to workshops and volunteers in the region to help encourage young people to read.
East Gwillimbury Era
Mickey Eves was reluctant to read when she was growing up.
So when she had three kids of her own, she wanted to make sure things were a little bit different. She started writing stories to read to them.
Little did the Holland Landing resident know the endeavor would lead to writing, illustrating and self-publishing four children's books with four more on the way.
"I realized the impact missing reading has on people," she said. "Storytelling helps build creativity and confidence."
She was one of many authors doing book signings at the East Gwillimbury Home Show this past weekend. Her daughter, Georgia, sat beside her as attendees came by for autographs. She got to enjoy her mom's work before bed every night.
"I have three strong capable readers," Ms Eves said.
While this originally started off as a venture for her own children, Ms Eves wanted to extend the love of reading to as many children as possible. Through workshops with the York Region District School Board and her work with the East Gwillimbury public library, Ms Eves is determined to open up a whole new world to her audience.
When she goes into such a setting, she's always looking to make an impact on the children who don't love reading.
"I just want to open a little crack for kids who have shut that down for themselves and have them rekindle an interest," she said.
Her four books Hank & The Goose Insanity, The Canucks, One Million Zillion Snowflakes and Me and My Dad have a broad range of appeal for children up to age 10. As a child, Ms Eves was always doodling, so it's no surprise she also did the illustrations.
"I love it," she said.
Self-publishing is a very different route, but it has allowed her to maintain the quality of work she wanted while having complete control.
As Ms Eves looks to the future, she wants to continue producing books, but understands the industry could look much different five to 10 years down the line.
"I love having a physical book in my hand. That said, I am looking at creating something for digital copy," she said.
It's no secret what keeps her writing books and drawing pictures. It's those faces of children who are hooked after they told her they weren't interested in reading 10 minutes earlier.
"It is such a unique opportunity," she said.